Module 1
Subscription workflow
Dynamic management of the subscription form
Invitation to subscribe in direct or indirect mode (100% digital)
Customization of workflow process steps and investor questionnaires
Consistency checks, easy backtracking and corrections
Automatic generation of the subscription form
eIDAS electronic signature (multi-signatures possible)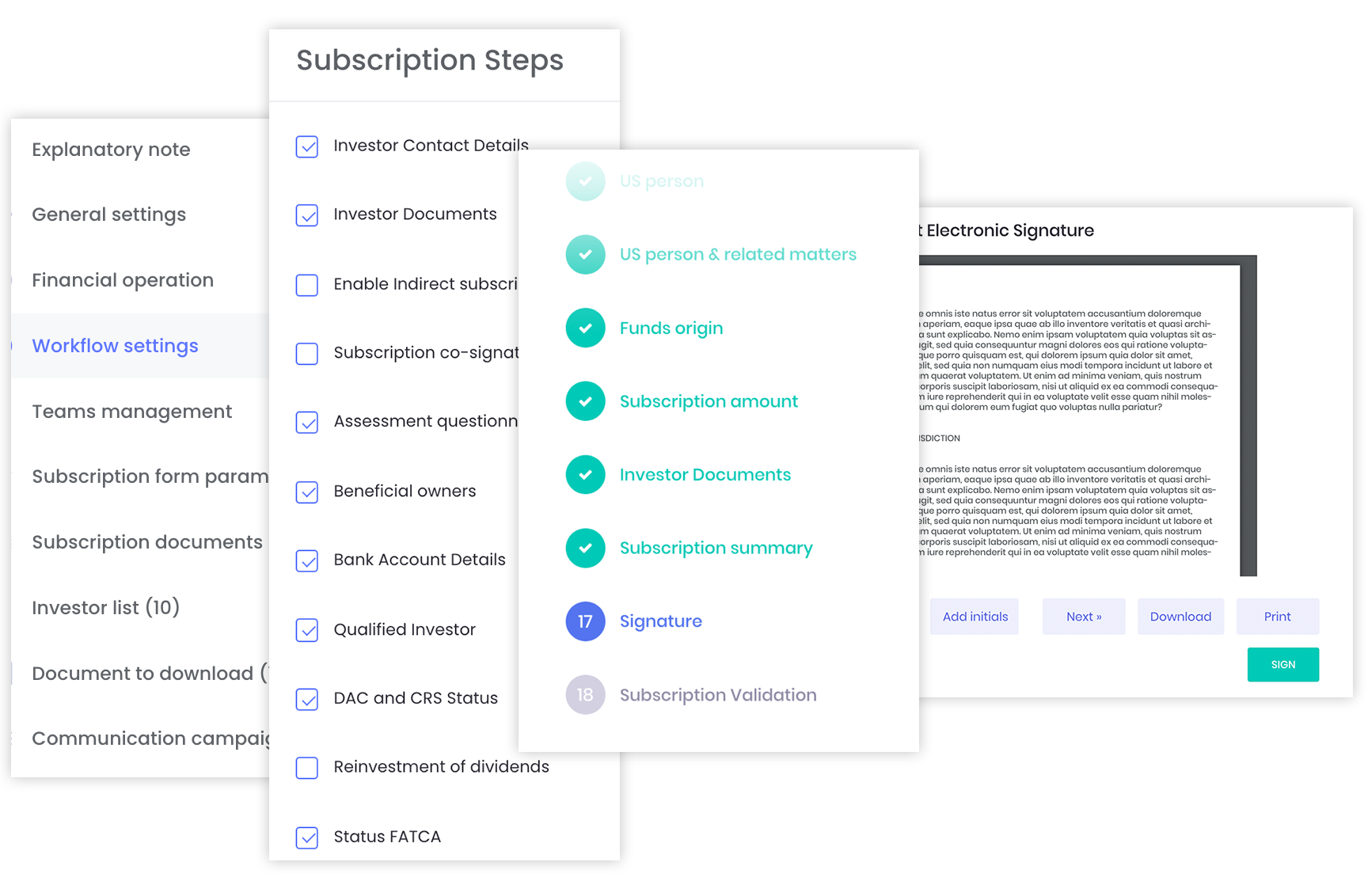 Monitoring of the subscription process
Follow-up of the progress of a current subscription
Subscription management dashboards
Management areas according to roles: back-office, middle-office, compliance, signatories, etc.
Team management (multi middle-office by geographical area and/or by fund)
Traceability, audit trail and time stamping of actions, with Blockchain certification if required
Interfacing with management tools (via API) : E-Front, Sales Forces, Unicia, Subscript, Intralink, etc.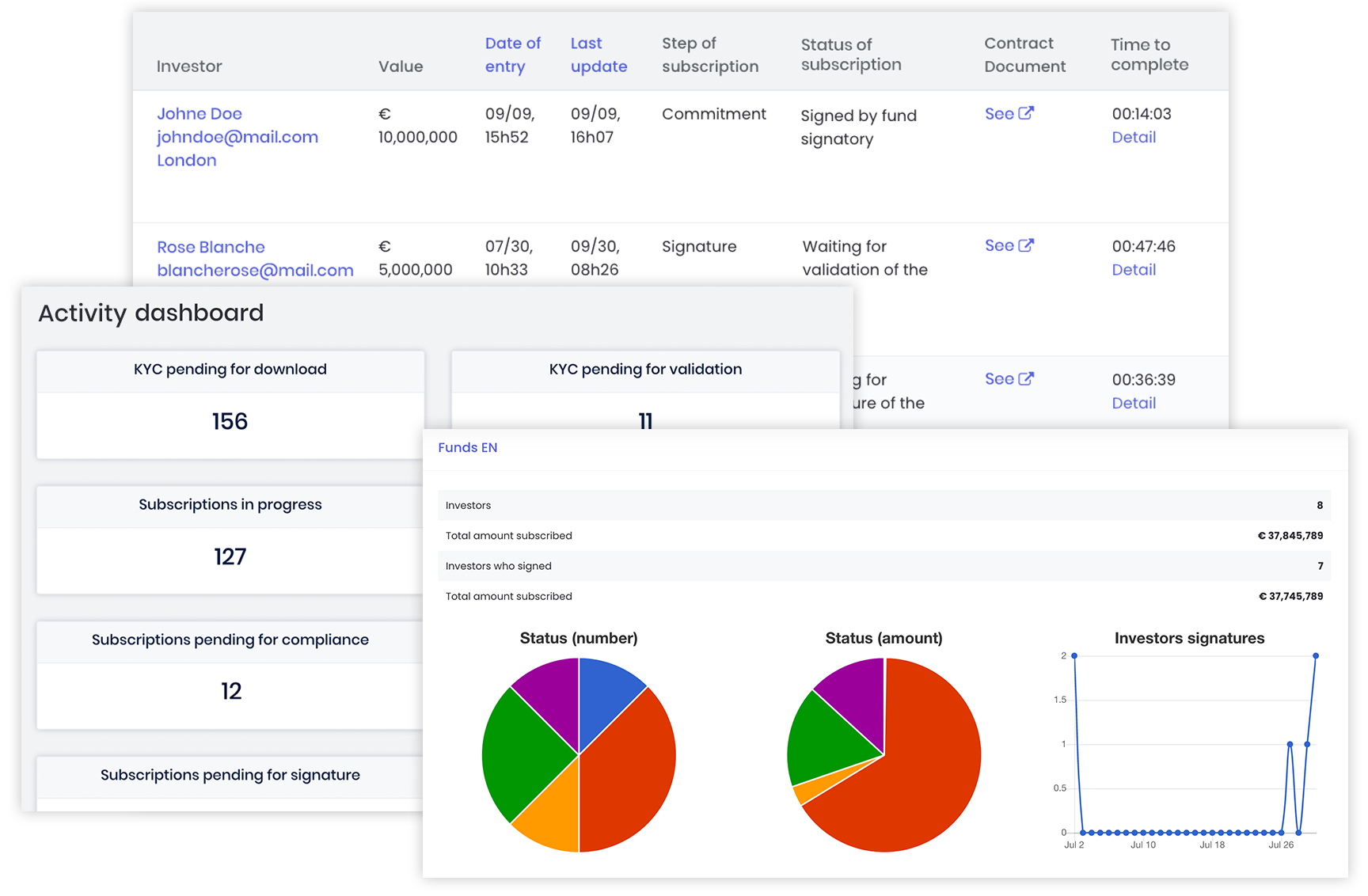 Dynamic KYC management
Loading of supporting documents according to the nature of the investors (individuals, companies, PPE, beneficial owners, etc.) and their level of risk
Control of the investor's identity document
Custodian access (KYC validation process)
Notifications and alerts (expiration dates, etc.)
Request for additional documents
Due diligence of supporting documents
Risk scoring
Module 2
Investor extranet
Investment dashboard
Electronic vault: subscription forms and other documents
Message Inbox
Preservation of supporting documents
Conservation of data for future subscriptions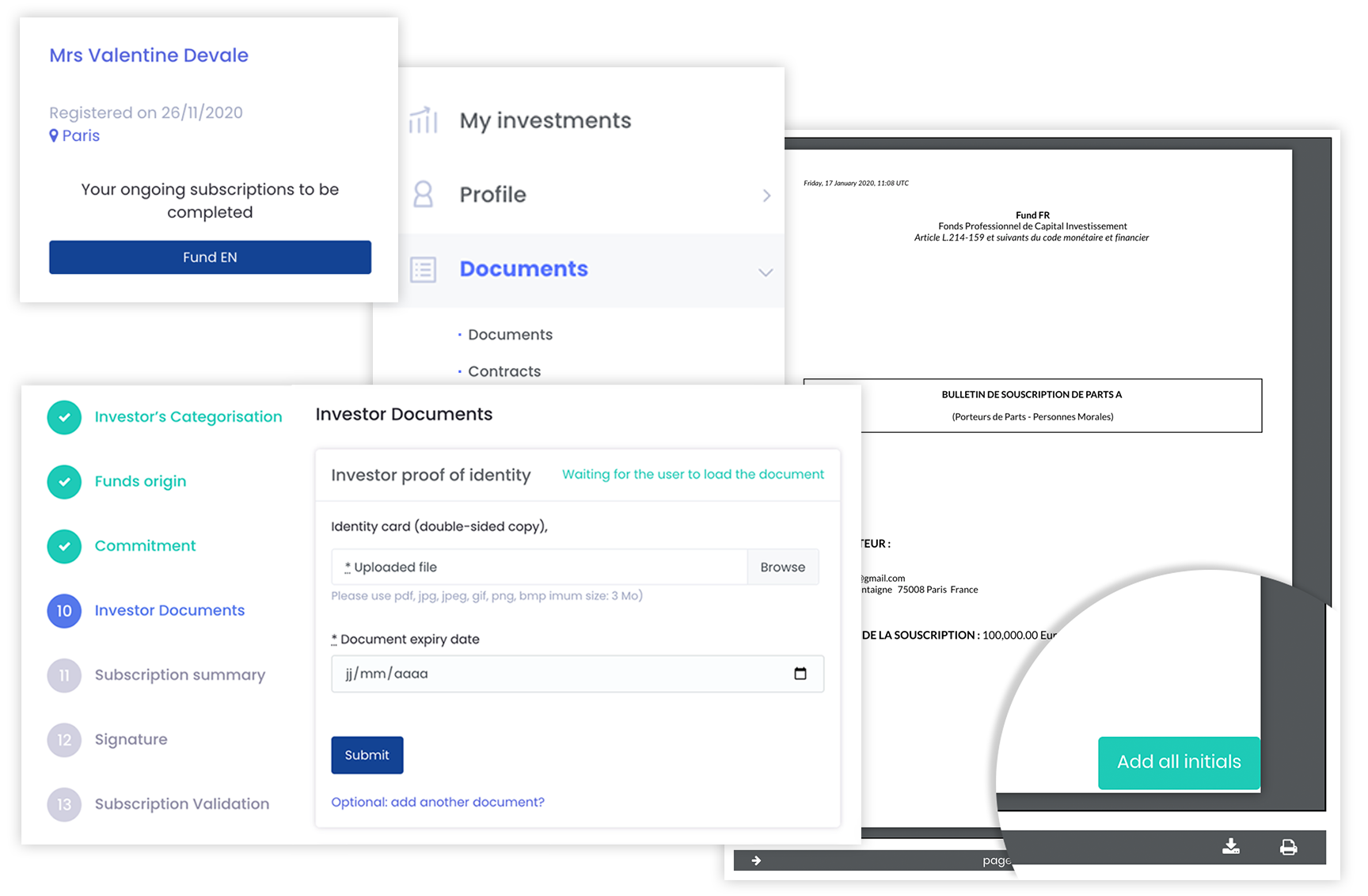 Module 3
Distributor & WMA extranet
Sending and follow-up of online invitations
Follow-up of actions to be taken
Pre-filling of subscription forms possible
Sales portfolio dashboard (by advisor and/or by head of network)
Real-time commission view
Signature of partner agreement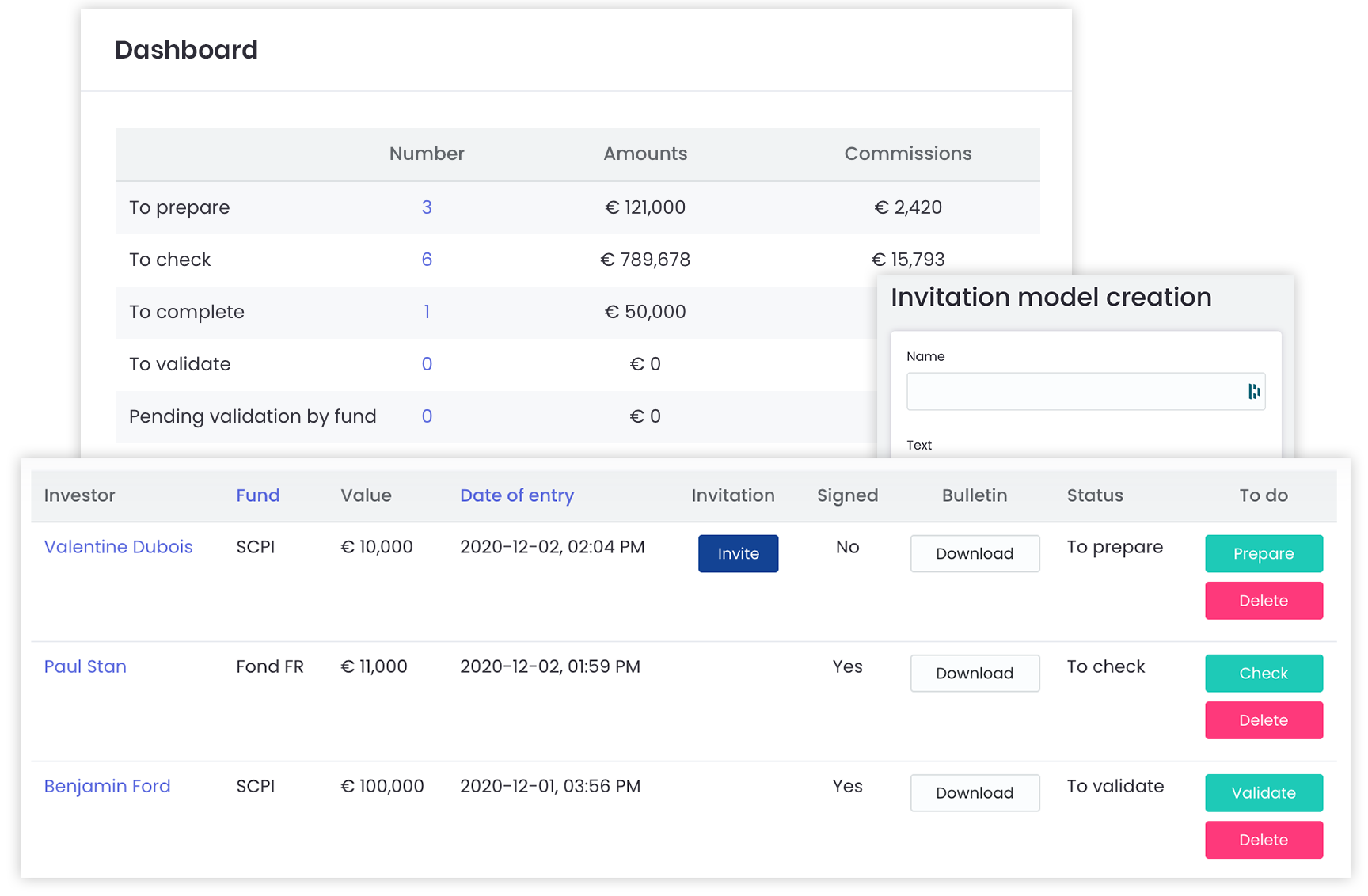 Module 4
Premium support to users
Live Chat
Hotline with the possibility to switch the call to Management Companies internal teams
Monthly interventions report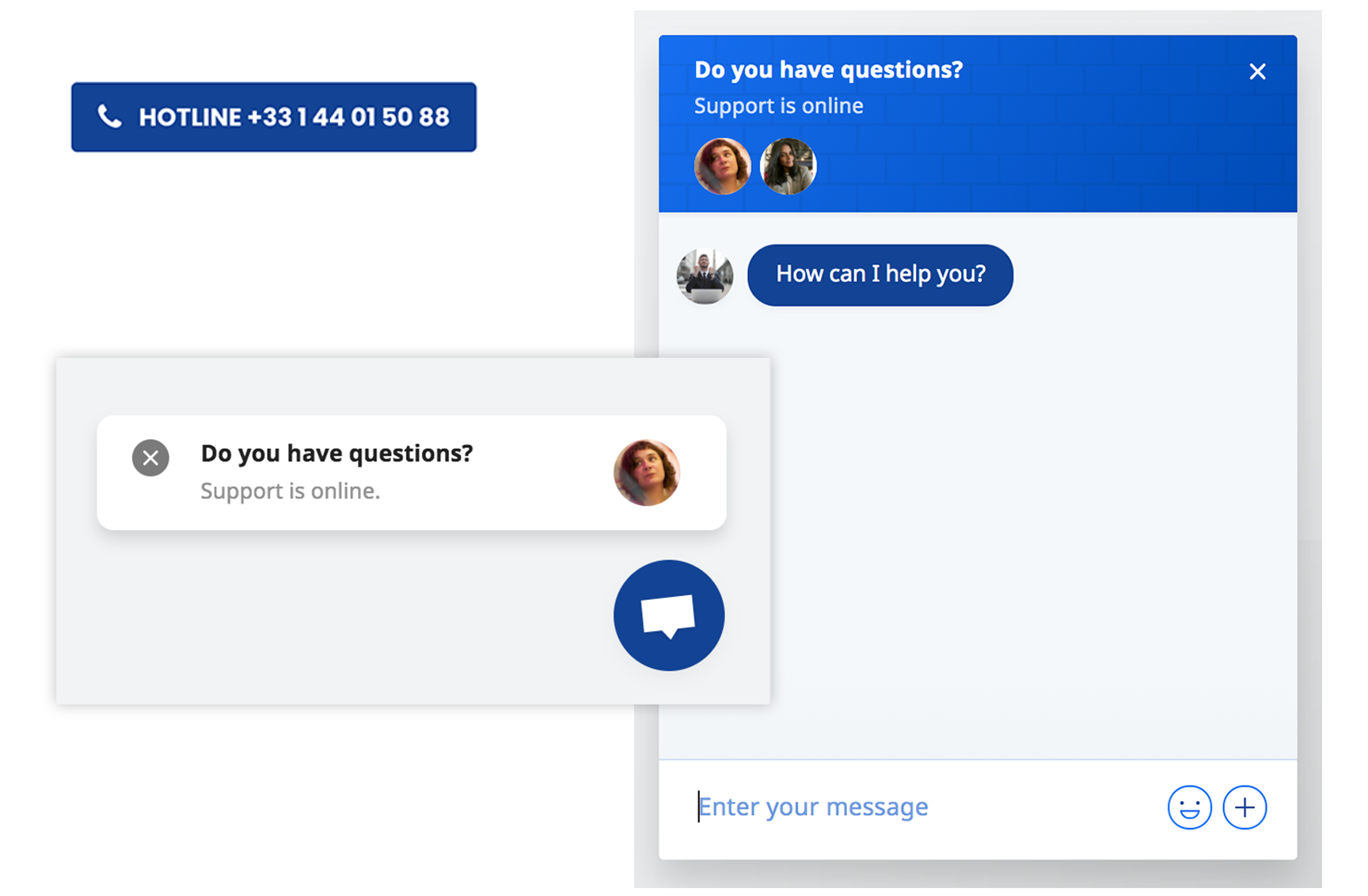 Module 5
Securities transfer
Buyer & seller workflows dedicated to a securities transfer transaction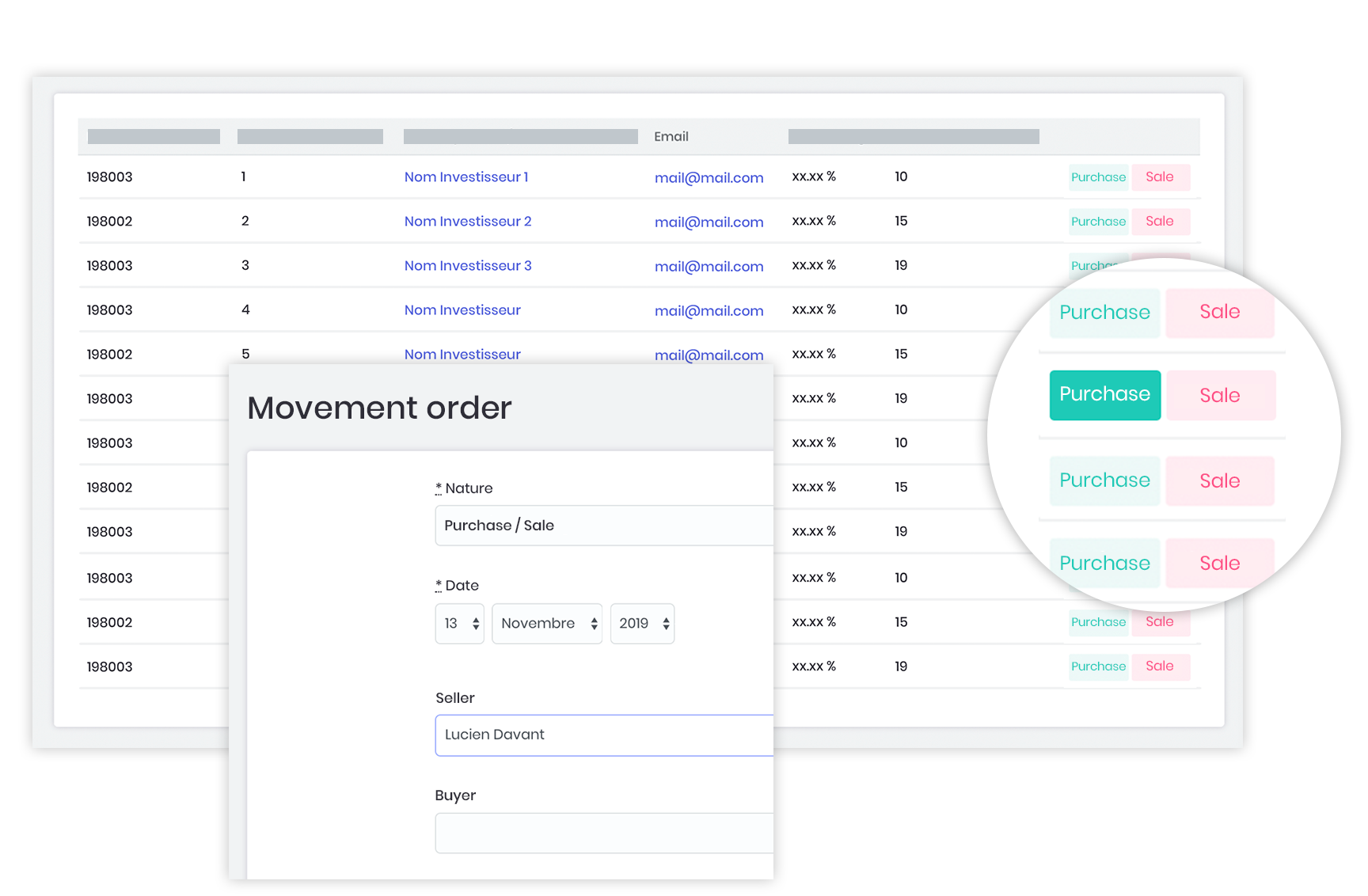 Module 6
Anti-Money Laundering/Combating the Financing of Terrorism
Automatic generation of an AML-CFT risk report:
Screening of global databases (governmental, judicial, newspapers) related to EPP (politically exposed persons), penal and regulatory sanctions, reputation (Namescan)
Continuous screening(alerts)
Reports archiving
Control of beneficial owners (INPI)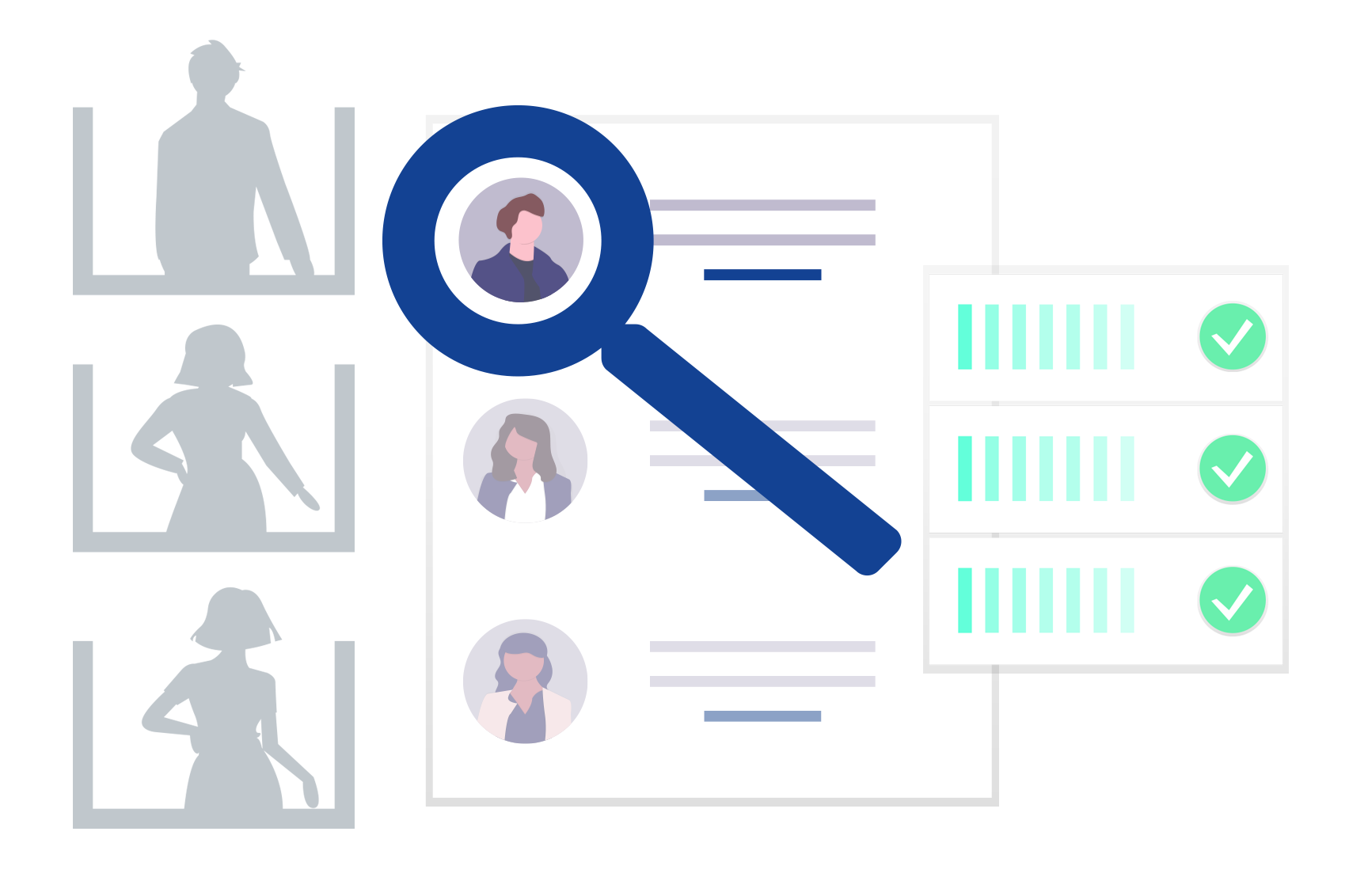 Module 7
Unlisted securities register
Dynamic capitalization table
Downloading of documents (PDF register, Excel capitalization table)
Real-time control of the consistency of the data
Certification on the Ethereum Blockchain
Ownership certificates
> More info
Module 8
Online payment
Settlement of subscriptions and payment of WMA commissions:
Multiple payment methods (bank transfer, credit card, direct debit)
Payment monitoring (tracking, time stamping, traceability, etc.)
Dashboards
Mipise is a payment agent of the payment institution MANGOPAY.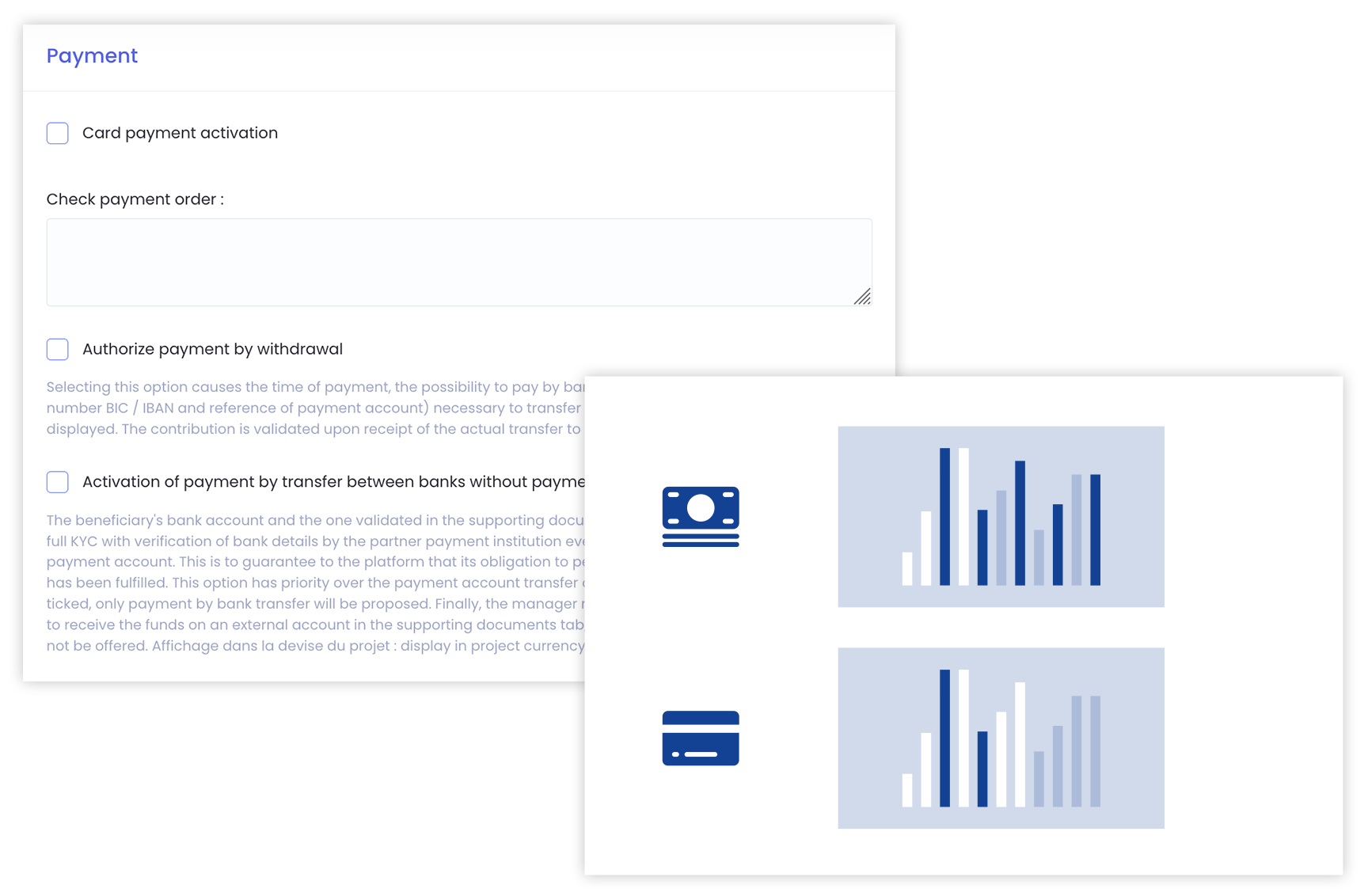 Let's talk about your project
Please fill in the form and explain your project, a member of MIPISE team will come back to you as soon as possible.
You can also reach us by phone :
+33 (0)1 44 01 50 88