Blog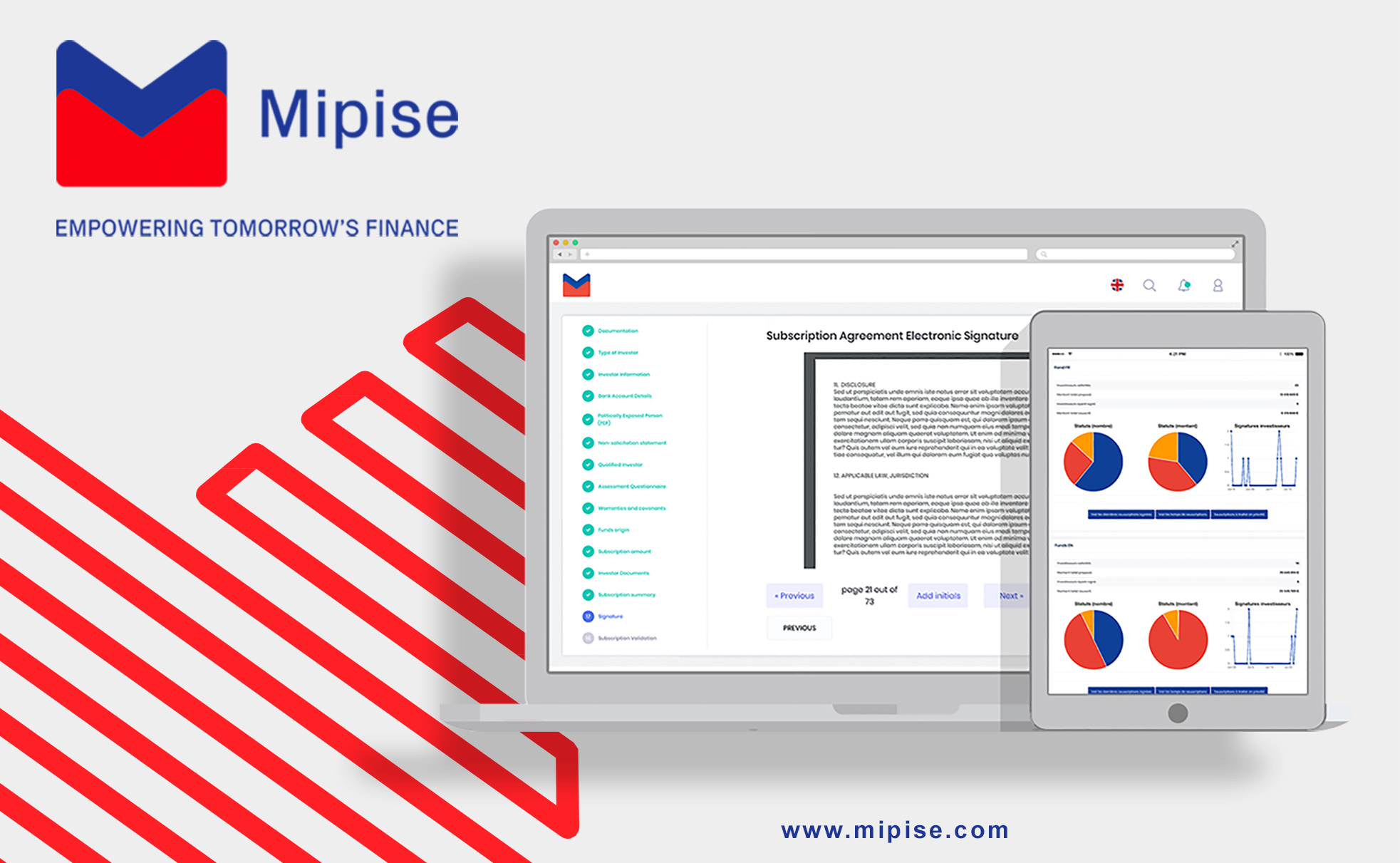 Mipise raises €1 million and expand across Europe
3 Février 2022
Mipise has completed a €1 million from Mandalore Partners and its historical shareholders.
FinTech-Regtech specialised in the digitalisation of financial activities, Mipise offers "label end-to-end" solutions that enable the digitalisation of complex and critical on-boarding, investment and payment workflows in Private Equity, Wealth Management, Insurance and Corporate fields.
Mipise has completed a €1 million equity raise to consolidate its leading position on the French crowdfunding platform market and accelerate its development towards Alternative Finance and Asset Management players (Wealth Management Advisors, Family Offices, funds) in France and Europe. This "pre-series A" round brings together the historical investors of MIPISE (WeLikeAngels Investessor, the SIBESSOR 2 fund and the THEOS family group). Mandalore Partners, specialised in savings technologies (Wealth Tech), is entering the capital as a lead investor for this new funding round.
An additional debt raising of €1 million is underway, with the support of EDULIS, which has been advising MIPISE's financing strategy since 2018. It will allow MIPISE to expand its offer in Europe, particularly in Benelux, Germany and the UK.
Simultaneously, MIPISE will continue its R&D program focused on customer UX and personalised service, integration of the new ECSP regulation and continuous innovation, by mobilising its Blockchain expertise.
---
A steady growth in 2021 and strong international expansion in 2022
Michel IVANOVSKY, Chairman of MIPISE, says:
"MIPISE has operated €750 millions of flows since its creation. In 2021, we increased our turnover by 55% compared to 2020 and we have doubled the number of clients. This fundraising supports our development ambitions. We're already a leader in the creation of digital crowdfunding platforms, our aim is to quickly become a benchmark in Europe in terms of digitalisation of on-boarding and payment processes for asset managers and management companies, by contributing to their operational performance and compliance of their activities".
Minh Q. TRAN, founder of Mandalore Partners, adds:
"We specialise in technologies around savings, asset management and impact measurement as VC-as-a-Service in institutional and family offices, which explains our interest in MIPISE's offering and growth strategy".
About Mipise: Founded in 2013 by Michel Ivanovsky and Jean-Michel Errera, two former bank executives, Mipise specialises in technological innovation for financial players wishing to engage in their digital transformation. For 2022, MIPISE expects a growth of 50 to 80% in its turnover. The team will have 30 employees by the end of the year and will rely on local partnerships to consolidate its development in Europe. At the heart of the Mipise project, the vision of a finance that must reinvent itself thanks to digital technological tools, Saas platforms, blockchain to enable the success of a collaborative and efficient financial economy.
About Mandalore Partners: Mandalore Partners specialises in Corporate Venture Capital-as-a-service. As an asset-builder for corporations and mid-sized companies, Mandalore de-risk innovation with strategic and impact investments by sourcing, investing, and partnering in innovative technology companies fitting its partners' venture programs.